UPCOMing events
| Date | Event | Location | Tickets |
| --- | --- | --- | --- |
| Jul 29 | Chicks Ahoy! Vancouver Pride... | Vancouver | Sold Out |
| Jul 31 | Chicas in the Afternoon 2022 | Vancouver | Sold Out |
| Jul 31 | Hershe Bar-Vancouver Pride... | Vancouver | At Door |
SEE ALL EVENTS
Hershe Bar-Vancouver Pride Closing Party 2022
Date:

Sunday July 31, 2022

Time:

9pm-2am

Location:

The Red Room [See the venue & map]
Welcome back!!! The whole wonderful weekend leads to Hershe Bar, Flygirl's famous and full-on Pride party. This one-night festival is a supersonic tonic of pumping sound, stunning performers, CO2 jets, and dynamite DJs.
Bring your old friends, new friends, friendly hookups—if they like to dance, we want to meet them. Take a nap after Chicas in the afternoon and go for round 2 with our multi-DJ lineup: Riki Rocket (UK,BC), Kasey Riot (UK, Vancity) and S@m I @m (Vancity).
End Gay Christmas the right way and dance the night away with us!
🦄Tix: $15+GST Early-bird Advance | $19.99+GST Regular Advance. Limited door admission. Please arrive early.
🦄As always, LGBTQIA2+ people of all stripes (19+) welcome!
🦄All washrooms are gender neutral.
🦄Masks are not mandatory, but always welcome.

FAQs:
Can my straight, gay, Bi, trans, queer friend attend the party? Yes! All Flygirl parties have always been and always will be inclusive. EVERYONE is welcome! The Flygirl team is a diverse group of wholesome, inspiring, fun, and badass humans who identify all along the gender and sexuality spectrums.:)
Are there ID requirements or an age limit to enter the event? Legal drinking age in British Columbia is 19 years old. BC Liquor Licensing laws require all patrons, regardless of age, to have 2 PCS of ID on their person, at all times.
How many tickets can I purchase in one order? There is a 10 tix per person limit for each event.
Do I have to wear a wristband at the Pride parties? Yes. Wristbands must be worn for the duration of the event. There will be no replacement or re-admission for lost, stolen or tampered wristbands. No exceptions. Wristbands are not transferable.
Do I have to print my eticket? You can print your eticket and bring to the door OR you can go paperless by downloading the Eventbrite App after your ticket purchase. No tickets will be mailed.
What is your refund policy? We have a no refund policy, with the exception of the event being cancelled.
Do you take pictures and video at the parties? All events will be videotaped and photographed, and the images may be used in promotional materials.
Note: Artists are subject to change and or replacement, including dates of performance and scheduled talent. Should we cancel a date entirely, we will either offer a replacement date or refund your ticket. Flygirl is not responsible for errors and omissions.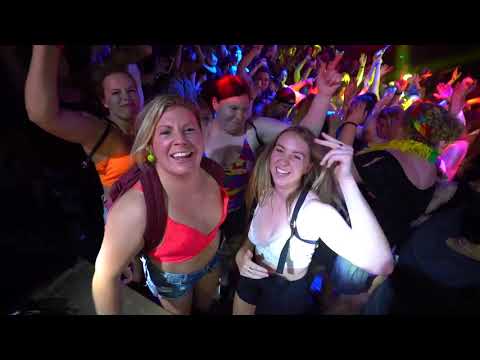 Featuring:
DJs: Riki Rocket (UK, BC), Kasey Riot (UK, Vancity), S@m I @m (Vancity)
Riki Rocket (UK/BC)
Dj Rocket, an Indigenous LGBTQ Canadian DJ has been a professional in the music industry since 2002; as
a promoter, presenter, music producer, sound engineer and International DJ, she has worked with some of the best in the business.


First starting as a DJ in the UK, Riki has just over 8yrs tucked under her belt specializing in House, Rnb, HipHop, Electro & Indie. Her main international residencies were at the famous Candy Bar Brighton/London, Wild Fruit and Ghetto Brighton.
She has played numerous clubs throughout the South of England and has played at festivals and events in Europe including Dublin, Gran Canaria and Zurich.
Rocket has also showcased her talents outside of Europe when she was one of the headliners at the 'Bitch' parties for Sydney Mardi Gras in '09.


Over the years she has tag teamed with DJ's from Fabric/China Whites/Ministry of Sound/Digital/BBC 1 Xtra and opened for "Chicks on Speed" @ Brighton Pride and was chosen to play at a fashion shoot for Naomi Campbell.


Other accomplishments from
England include nominations for best female DJ @ the prestigious Golden Handbag Awards,
a co-host & DJ of 'the breakfast show' on Radio Reverb 97.2FM. After 3yrs of studying at Access to Music, Brighton UK she has now developed into a skilled producer.


Now residing in B.C., Canada - Rocket is the resident DJ for Flygirl Productions in Vancouver; Canada's premier lesbian event producers known for their wildly successful parties "Hershe Bar", "Chicas" and pride cruise "Chicks Ahoy!." She continues to play with talented DJ's throughout North America such as Rhiannon/Betti Forde/Miss M/Kasey Riot/Saratonin/Amara and Soulfunkee. She has headlined at both Whistler and Vancouver Pride to packed clubs and continues to be at the top of her game.
Kasey Riot (UK,Vancity)