UPCOMing events
| Date | Event | Location | Tickets |
| --- | --- | --- | --- |
| Aug 02 | Chicks Ahoy! Pride Boat... | Vancouver | Sold Out |
| Aug 04 | Chicas in the Afternoon 2019 | Vancouver | At Door |
| Aug 04 | Hershe Bar-Vancouver Pride... | Vancouver | At Door |
SEE ALL EVENTS
Hershe Bar-Vancouver Pride Closing Party 2019
Date:

Sunday August 04, 2019

Time:

8pm-2am

Location:

The Red Room [See the venue & map]
NOTE: All advance tickets are sold. Please arrive early for limited door admission. Doors open at 8pm. There are no paper tickets for purchase at the door. Only door admission. Door admission is first come first serve and entry priority is given to those with advance tickets.
Our favourite happy ending and the crown jewel of Flygirl's Pride weekend… Hershe is back on Sun Aug 4, 2019 with 2 rooms fully decked out at The Red Room 398 Richards Street from 8pm-2am. A double-faceted experience in true Hershe tradition-2 rooms, 1 mahoosive party. It's the last night of Pride, so we're going all out with festival vibes, face-painting, amazing live performers, and CO2 jets.
Bring your old friends, new friends, friendly hookups—if they like to dance, we want to meet them. Take a nap after Chicas in the afternoon and go for round 2 with our multi-DJ lineup: DJ Automaton (LA, Portland), Riki Rocket (UK), O Show, Carolina Campos, Rose Garcia (Real L Word) and more.
End Gay Christmas the right way and dance the night away with us!
Tix: $15+GST Early Bird / $18+GST Regular
As always (aka. the last 15+ years), LGBTQIA2+ everyone (19+) welcome!
All washrooms are gender neutral.
Trust your Pride weekend to Flygirl. Creating legendary Pride experiences since 2001.
FAQs:
Can my straight, gay, Bi, trans, queer friend attend the party? All Flygirl parties have been and always will be inclusive. Absolutely EVERYONE is welcome! For the last 15+ years, Flygirl has been and continues to be a diverse team of wholesome, inspiring, fun & badass local humans that identity along the entire gender and sexuality spectrums. We love all colours of the rainbow. 🙂
Are there ID requirements or an age limit to enter the event? Legal drinking age in British Columbia is 19 years old. BC Liquor Licensing laws require all patrons, regardless of age, to have 2 PCS of ID on their person, at all times.
How many tickets can I purchase in one order? There is a 10 tix per person limit for each event.
Do I have to wear a wrist-band at the Pride parties? Wrist-bands must we worn for the duration of the event. There will be no replacement or re-admission for lost, stolen or tampered wrist-bands. No exceptions. Wrist-bands are not transferable.
Do I have to print my eticket? You can print your eticket and bring to the door OR you can go paperless by downloading Eventbrite App after your ticket purchase. No tickets will be mailed.
What is your refund policy? We have a no refund policy with the exception of the event being cancelled.
Do you take pictures and video at the parties? All events will be videotaped and photographed and the images may be used in promotional materials.
Note: Artists are subject to change and or replacement, including dates of performance and scheduled talent. Should we cancel a date entirely, we will either offer a replacement date or refund your ticket. Flygirl is not responsible for errors and omissions.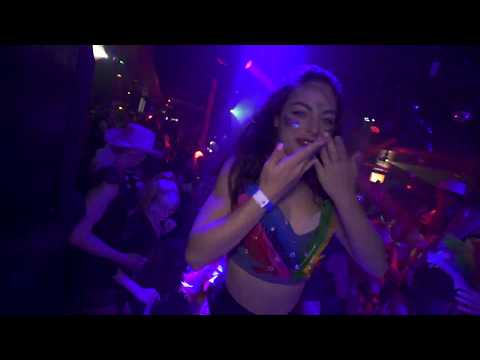 Featuring:
DJs & Host: Automaton (LA, Portland), Riki Rocket (UK/BC), O Show (Vancity), Carolina Campos(Brazil-Vancity), Rose Garcia (The Real L Word)
Automaton (LA, Portland)
DJ Automaton aka Vincent Domini, a proud transman grew up in Portland, Oregon and is currently based in Los Angeles as a DJ, musician, and event producer. He is known for raging rooftop pool parties mixing everyone's favourite 90's jams, hip hop and top 40 hits and Portland's hottest QTPOC and all-inclusive hip-hop party CAKE. He is influenced by a wide range of genres from Rap, R&B, and pop music, to psychedelic, punk and funk of the 60's and 70's, early and classic hip hop, and 80's/90's grunge and goth. His unique talent and style is exciting to experience.
Riki Rocket (UK/BC)
First starting as a DJ in the UK, Riki has over 10yrs tucked under her belt specializing in House, Rnb, HipHop, Electro & Indie. Her main international residencies were at the famous Candy Bar Brighton/London, Wild Fruit and Ghetto Brighton. She has played numerous clubs throughout the South of England and has played at festivals and events in Europe including Dublin, Gran Canaria and Zurich. Rocket has also showcased her talents outside of Europe when she was one of the headliners at the 'Bitch' parties for Sydney Mardi Gras. Over the years she has tag teamed with Dj's from Fabric/China Whites/Ministry of Sound/Digital/BBC 1 Xtra and opened for "Chicks on Speed" @ Brighton Pride and was chosen to play at a fashion shoot for Naomi Campbell.
O Show (Vancity)
Orene Askew AKA DJ O Show brings 10+ years of experience to the industry. She has dedicated herself to her passion of music, chiseling out her niche as a female hip hop and R&B DJ in Vancouver, BC. In addition to DJ'ing, she is an inspirational speaker, traveling across the continent to bring ambition and drive to youth, encouraging them to make any dream they have into a reality. O Show is a Two-Spirit Activist and one of the youngest members on Squamish Nation Council. When she isn't in meetings with Government officials, O Show is making people dance with the beats she spins. Whether you are hosting an industry party, planning your wedding or birthday or special event, O Show creates memorable sets, proving time and time again that diversity makes beautiful music.
Carolina Campos (Brazil-Vancity)