UPCOMing events
| Date | Event | Location | Tickets |
| --- | --- | --- | --- |
| Jul 29 | Chicks Ahoy! Vancouver Pride... | Vancouver | Sold Out |
| Jul 31 | Chicas in the Afternoon 2022 | Vancouver | Sold Out |
| Jul 31 | Hershe Bar-Vancouver Pride... | Vancouver | At Door |
SEE ALL EVENTS
Chicas in the Afternoon 2022
Date:

Sunday July 31, 2022

Time:

4pm-9pm

Location:

Sheraton Wall Centre [See the venue & map]
DOOR ADMISSION: Please note that there is no set number of tickets available at the door. Door admission is only available if ticket holders do not show, which happens every year. Everyone with advance tickets has to be checked-in first and only then, the missing spots will be sold. Some people also sell extra tickets at the door when doors open at 4pm. Please be very careful with social media comments about sale of extra tickets. Do your due diligence and check the profile of the seller. These are often times scammers.
WELCOME BACK! Chicas garden party on Sun July 31, 2022, 4pm-9pm at Sheraton Wall Centre 1000 Burrard Street, Vancouver is so one-of-a-kind, we don't even need to fill it with unicorns—but we do! Chicas is a grassy-lawn day club with pillows, picnic blankets, frosty cocktails, unicorn floats, new friends, forever friends, and phenomenal music—all just steps from Davie village. Invite anyone you like, everyone is welcome.

Back by passionate and popular demand, our 2022 headliner is Sandy Duperval. Sandy is an INCREDIBLE DJ and singer (she trained with Whitney Houston's mom!). A Montreal native she now lives in Toronto, but if we dance hard enough, maybe she'll move out west.

🦄Tix: $59.99+GST advance. Limited door admission. Please arrive early.
🦄As always, LGBTQIA2+ people of all stripes (19+) welcome!
🦄All washrooms are gender neutral.
🦄Masks are not mandatory, but always welcome.

FAQs:
Can my straight, gay, Bi, trans, queer friend attend the party? Yes! All Flygirl parties have always been and always will be inclusive. EVERYONE is welcome! The Flygirl team is a diverse group of wholesome, inspiring, fun, and badass humans who identify all along the gender and sexuality spectrums.:)
Are there ID requirements or an age limit to enter the event? Legal drinking age in British Columbia is 19 years old. BC Liquor Licensing laws require all patrons, regardless of age, to have 2 PCS of ID on their person, at all times.
How many tickets can I purchase in one order? There is a 10 tix per person limit for each event.
Do I have to wear a wristband at the Pride parties? Yes. Wristbands must be worn for the duration of the event. There will be no replacement or re-admission for lost, stolen or tampered wristbands. No exceptions. Wristbands are not transferable.
Do I have to print my eticket? You can print your eticket and bring to the door OR you can go paperless by downloading the Eventbrite App after your ticket purchase. No tickets will be mailed.
What is your refund policy? We have a no refund policy, with the exception of the event being cancelled.
Do you take pictures and video at the parties? All events will be videotaped and photographed, and the images may be used in promotional materials.
Note: Artists are subject to change and or replacement, including dates of performance and scheduled talent. Should we cancel a date entirely, we will either offer a replacement date or refund your ticket. Flygirl is not responsible for errors and omissions.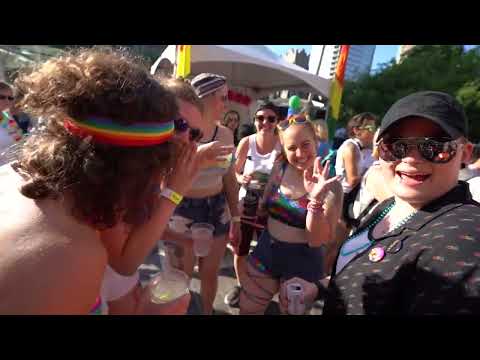 Featuring:
DJs: Sandy Duperval-DJ & Singer (Montreal/TO), Riki Rocket (UK,Vancity), Veronica (Vancity), Slade (Vancity)

She's a Montreal native, but Toronto is where singer, DJ, and producer Sandy Duperval resides. Sandy is a devoted and passionate artist with over 13 years of vocal training, and has studied under the tutelage of the late legendary icon, Whitney Houston's mother, Cissy Houston. Since 2008, Sandy has been steadily working hard and gaining notoriety in the world of electronic music as a DJ/singer, playing in several countries around the world. Her performances have been touted as a one of a kind experience. By mixing live vocals over her DJ sets, Sandy leaves crowds from across the globe buzzing over the positive vibes resonating after each and every engagement.

Singing is Sandy's primary love, and she touts Whitney Houston, Lauryn Hill, Tina Turner, Robin S, Crystal Waters, and Martha Wash as a few of her vocal influences. It was during her studies at College de Sherbrooke majoring in Jazz Vocals that she discovered the art of DJing. Under the mentorship of Hugo Lapalme, known for his exemplary DJing prowess in Quebec, she spends years improving her technique and jumps at the opportunity to demonstrate her skills in front of the camera on "Star Académie", Quebec's most watched reality tv show comparable to American Idol. However, it is her 7-year residency at the coveted evening spot College Night at Unity Nightclub that has established her as a bold and prominent DJ in the nightlife industry. Sandy is one of the very few DJ/singer artists in the industry, and it's this unique combination that attracts events such as Montreal's own Diverscité and Pride festivals, as well as Toronto Pride's "Green Space¨ to book her as a main act to play for an average crowd of 10 000 people. As her star continued to shine, Sandy flourished and worked at some of the most respected clubs and opened for world renowned DJs such as Bob Sinclar, Showtek, Ruby Rose, Lil Jon, Carnage and many more.

Currently, Sandy is the official DJ for Universal Music/Republic Records rising star and Flo-Rida protégé Natalie LaRose, who has sold over 2 million copies of her 1st single "Somebody" Feat. Jeremih. She has toured with LaRose on the "Fifth Harmony - Reflection Tour" in over 30 cities across the USA, as well as attended and played at major events such as the US Open and "We Day", which was broadcasted live on American television. To add to her achievements, she was the headliner for the first Canada Pride, held August 2017 in Montreal.


Riki Rocket (UK, Vancity)
Dj Rocket, an Indigenous LGBTQ Canadian DJ has been a professional in the music industry since 2002; as
 a promoter, presenter, music producer, sound engineer and International DJ, she has worked with some of the best in the business.


First starting as a DJ in the UK, Riki has just over 8yrs tucked under her belt specializing in House, Rnb, HipHop, Electro & Indie. Her main international residencies were at the famous Candy Bar Brighton/London, Wild Fruit and Ghetto Brighton.
She has played numerous clubs throughout the South of England and has played at festivals and events in Europe including Dublin, Gran Canaria and Zurich.
Rocket has also showcased her talents outside of Europe when she was one of the headliners at the 'Bitch' parties for Sydney Mardi Gras in '09.


Over the years she has tag teamed with DJ's from Fabric/China Whites/Ministry of Sound/Digital/BBC 1 Xtra and opened for "Chicks on Speed" @ Brighton Pride and was chosen to play at a fashion shoot for Naomi Campbell.


Other accomplishments from
England include nominations for best female DJ @ the prestigious Golden Handbag Awards,
a co-host & DJ of 'the breakfast show' on Radio Reverb 97.2FM. After 3yrs of studying at Access to Music, Brighton UK she has now developed into a skilled producer.


Now residing in B.C., Canada - Rocket is the resident DJ for Flygirl Productions in Vancouver; Canada's premier lesbian event producers known for their wildly successful parties "Hershe Bar", "Chicas" and pride cruise "Chicks Ahoy!." She continues to play with talented DJ's throughout North America such as Rhiannon/Betti Forde/Miss M/Kasey Riot/Saratonin/Amara and Soulfunkee. She has headlined at both Whistler and Vancouver Pride to packed clubs and continues to be at the top of her game.
Veronica (Vancity)
British-born, DJ Veronica began her DJ career in 1997 when she started Loose Chance, a weekly live DJ 7-hour House Music Radio show in Vancouver featuring local DJs.
Her technical skills, programming ability and stage presence catapulted Veronica into the local and international DJ scene. Soon she was travelling to New York, Spain, Australia, USA and Asia opening for DJs such as David Alvarado, DJ Rhiannon, Armand Van Helden, Lawnchair Generals, Trevor Walker, DJ Preston, Peaches and RUN DMC. She's made numerous appearances on MTV Canada, as well as being a special guest DJ on the Vancouver-based Shopping Bags TV show, and HGTV's House Hunters International.
Slade(Vancity)
Hailing from Vancouver BC, DJ Slade has been sharing her eclectic taste in music with audiences since 2013. Be it neo-soul, funk, old school hip hop and r&b, or contemporary pop favourites, she loves igniting that spark in a crowd's soul and boosting it higher and higher. When she's not behind the decks, DJ Slade can often be found performing with with the band, as Queer As Funk's resident DJ.